News
pre-2016 has been archived.
St Andrew's have won the Rock Cup for the second time in three years with a victory over St Joseph's at Elliot Park. The match, which took place on Friday 10thJune, was a hard fought affair with St Andrew's twice coming from behind. There was very little between the teams and St Joseph's played some magnificent football but St Andrew's showed great character and determination. Congratulations to Mr McMahon and the boys for a gutsy performance played in great spirit! Below is a match report written by team captain Jamie McCord and vice captain Jamie Downie.
St Andrew's Primary were playing in the Rock Cup final against St Joseph's. St Andrew's scored first with a drilled ball across the box to Aiden McDougall who tapped in to go 1-0 up. Minutes after, St Joseph's equalised with a header into an open net. St Andrew's were being dominated but then it was half-time. A minute after half-time St Joseph's went 2-1 up with poor defending from St Andrew's. Five to ten minutes later Jamie McCord equalised with a half volley. About two minutes later St Joseph's went 3-2 up from a deflected goal. Right after the starting whistle St Andrew's went on the attack and won a free kick. Out of nowhere Jamie Moran put it in the top corner. With about 7 to 8 minutes left Jamie Moran punted the ball up to Jamie McCord who then volleyed into the top corner to win the cup. St Andrew's lifted the cup after an amazing game.
For pictures please go to our Twitter Feed.
St Andrew's pupils competed well in the Dundee Schools annual athletics meeting.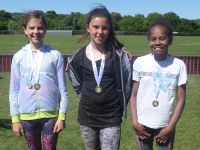 Our proud champions; Chloe Lyons, Chloe Clarkson and Iona Birse. Click on image to enlarge.
Accompanied by our PE specialist, Miss Kennedy, the children thoroughly enjoyed their day doing well in all disciplines. The children took part in 100mts, 400mts, 800mts and a relay race, as well as the long jump and the javelin events. They all did well and the children were praised for their good behaviour and sportsmanship by parents who were present. A special mention should go to our champions: Chloe Lyons of P7B for winning a silver and a bronze in the 100mts and 800 mts respectively; Chloe Clarkson of P7B for winning a bronze in the javelin and Iona Birse of P7A for winning a bronze in the long jump. Other children taking part were; Maryam Ibrahim, Teighan Milne, Theo Glaister, Jamie Fraser, Reece Suttenwood, Leonie Middleton, Daisy Davidson, Niall Flynn, Ewan Mannion, Emmie Ray Miles, Belle Thomson and Jamie Moran. Well done one and all! For more pictures why not go to our Twitter Feed.