Welcome to St Andrews RC Primary
St. Andrew's is a Roman Catholic primary school, catering for boys and girls from nursery to primary 7.
Welcome from the Head Teacher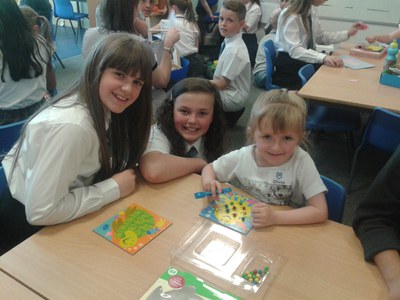 St Andrew's RC school website is designed to widen your understanding of our school, our aims, values and provide information regarding the range of activities across all stages.
Everything we do is shaped by the Gospel values of love and kindness, respect, tolerance, honesty, perseverance, empathy, patience and self-control. All our children are treated equally and as individuals.
Building on these important values, we aim to provide a happy, stimulating and a secure learning environment that encourages positive working attitudes and fosters respect and tolerance for the beliefs and opinions of others.
Instilling values and learning begins long before children come to school and it is our role to enhance and complement this 'nurturing approach' by helping our pupils realise the benefits of life-long learning. Many children come to school with valuable pre-school experiences and close links with our pre-school colleagues and discussions with parents and carers are vital as we build on this learning foundation.
We cater for all gifts and abilities by employing a broad general curriculum and ensuring a variety of approach. We encourage our children to be independent thinkers as well as learners. Furthermore, to enable each child to achieve their full potential, it is essential that a positive partnership between home, school and parish is developed, maintained and strengthened.
We expect our pupils to work hard and do their best in class. We celebrate achievements and recognise the significance of wider achievements too. We encourage pupils to take care of their surroundings, to develop respect, be polite, considerate and develop a growth mindset.
We pride ourselves on our strong, inclusive ethos and are child centred in our approach. We continually strive to create a warm, welcoming, safe and enjoyable environment to work and learn.
Finally, if you wish to discuss further any information shared on this website or, indeed, find out more about our school, please do not hesitate to get in touch using the contact details provided.
Many thanks,
John Neeson
Head Teacher

St Andrew's pupils competed well in the Dundee Schools annual athletics meeting.