Welcome to St Andrews RC Primary
St. Andrew's is a Roman Catholic primary school, catering for boys and girls from nursery to primary 7. Our current roll is 397 pupils, based across fourteen primary and two part-time nursery classes. (Nov 2016)
Welcome from the Head Teacher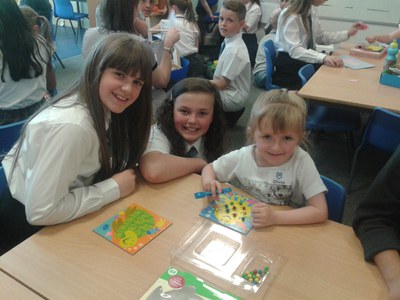 It is with pleasure that I welcome all existing and prospective parents, carers and pupils to St Andrew's Roman Catholic Primary School Dundee.
At St Andrew's we aim to provide the very best education for your child and cater for each of our pupil's academic, emotional, physical, spiritual and social needs.
We believe that each pupil is an important, unique individual, created in the image and likeness of God. Each child should feel that school is an important and happy place to learn where they can realise their full potential through becoming successful learners, confident individuals, effective contributors and responsible citizens.
We value our strong school community and promote an ethos of openness and partnership where parents are kept well informed and consulted about the school. Teachers and staff work in partnership with parents, carers and pupils to continually improve and develop our curriculum, policies and procedures with guidance from local and national government and the church.
Within our website you will find a range of background and practical information to help families of new pupils to prepare for school. There is also a range of news, events and class information which I hope will help to keep families of existing pupils informed about your child's education and expereinces at St Andrew's RC Primary School.
Should you require any further information, or have any concerns or queries, please do not hesitate to contact the school to arrange an appointment with myself or any member of staff as appropriate.
Kind Regards
Mrs Anne Leary (Head Teacher)






St Andrew's pupils competed well in the Dundee Schools annual athletics meeting.