News
pre-2016 has been archived.
St Andrew's pupils competed well in the Dundee Schools annual athletics meeting.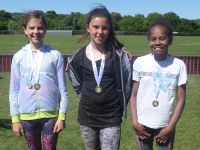 Our proud champions; Chloe Lyons, Chloe Clarkson and Iona Birse. Click on image to enlarge.
Accompanied by our PE specialist, Miss Kennedy, the children thoroughly enjoyed their day doing well in all disciplines. The children took part in 100mts, 400mts, 800mts and a relay race, as well as the long jump and the javelin events. They all did well and the children were praised for their good behaviour and sportsmanship by parents who were present. A special mention should go to our champions: Chloe Lyons of P7B for winning a silver and a bronze in the 100mts and 800 mts respectively; Chloe Clarkson of P7B for winning a bronze in the javelin and Iona Birse of P7A for winning a bronze in the long jump. Other children taking part were; Maryam Ibrahim, Teighan Milne, Theo Glaister, Jamie Fraser, Reece Suttenwood, Leonie Middleton, Daisy Davidson, Niall Flynn, Ewan Mannion, Emmie Ray Miles, Belle Thomson and Jamie Moran. Well done one and all! For more pictures why not go to our Twitter Feed.
Are you or anyone you know interested in working within your local community in the post of 'School Crossing Patroller'?
To see an advertising poster click here. For more information or to complete an application please follow the link below;
The National Parent Forum of Scotland has been working with Skills Development Scotland as part of the programme of work underway in Developing the Young Workforce.
In an effort to minimise any disruption over the forthcoming winter period, I would like to provide you with information about how school closure information will be cascaded to parent/carers and what the expectations of staff and pupils will be during this time.
To read the full text of Director of Education Michael Wood's letter go to the School tab, click on Documents and open Severe Weather Arrangements.